Created by a Champion, For Champions
Blackball Tables came to life in 2018, thanks to the passion and expertise of Ross McInnes and Michaela Tabb, a dynamic husband-and-wife duo. Ross, a pool legend with over three decades of experience, had always been deeply involved in the world of cue sports. He recognized the need for top-quality pool tables that catered to the exacting demands of players. Meanwhile, Michaela, a former International pool player and seasoned sales representative, decided it was time to channel her skills into entrepreneurship. Together, they embarked on the exciting journey of creating blackballtables.com, a platform dedicated to providing players with the finest in pool tables and accessories.
"For over 20 years, since the Hazelgrove table left the market, I had been thinking of developing a pool table I could be proud to put my name to. My team chose to have the discussion with Paul Adams from Optima Pool, as we wanted our product to be the best version of my vision. Paul and his team at Optima have been involved in the manufacture of quality pool tables for over 30 years. It was also important to us that the Blackball Table was fully manufactured in the UK, not a cheap import from across the seas." Says Ross.
The business was originally only set up to sell pool tables, but it quickly became apparent that customers wanted additional items with their pool tables, so the retail sector was born. With the addition of Ross and Michaela's son Morgan McInnes, the e-commerce website has grown massively with a diverse range of products that they continue to add to every week. Michaela and Morgan are both passionate about the website and the launch of oncueworld.com to move away from the table brand name of Blackball Tables was the next step in their journey. As a family hands-on business, service is very important to both of them and sets them apart from the competition. "When a customer buys a pool table, I want to speak to every one of them and make sure they are happy with their choices and explain all the options. I take it personally to make their journey as stress-free and rewarding as possible. In the end, it is a piece of furniture that has to have a welcome place in the home of Club of the customer. We are truly fortunate to see so many customers returning for repeat purchases, it shows we are doing something right and we are very proud of what we have achieved as a family unit.
Meet the Team
Michaela McInnes
Managing Director
Michaela McInnes, otherwise known as Michaela Tabb, is not just the heart and soul behind On Cue World, but also a figure revered in the cue sports industry. Widely known as the "Queen of the Baize," she has established herself as a top Professional referee in snooker and American pool events across the globe. Throughout her career, Michaela has officiated at high-profile events like the Mosconi Cup, the World Snooker Championship, and the UK Championship to name a few. Beyond her achievements, she's celebrated for breaking gender barriers and setting a high bar for integrity and professionalism in the sport.
Beyond the table, Michaela's influence has been pivotal in shaping the Cuesports community. Players, fans, and fellow referees respect her dedication to the game and her consistent, fair decision-making under intense pressure. At On Cue World, we're particularly proud of her efforts to promote the sport and her initiatives to encourage more women to take up roles in snooker and pool as players and officials.
Owning and leading On Cue World, Michaela continues to channel her passion and experience to foster growth and innovation in the Cuesports world. Her legacy as a top-tier referee and business leader underscores her commitment to the game and its community. On Cue World is a testament to her vision, and we are excited to be part of her journey, impacting cue sports for years to come.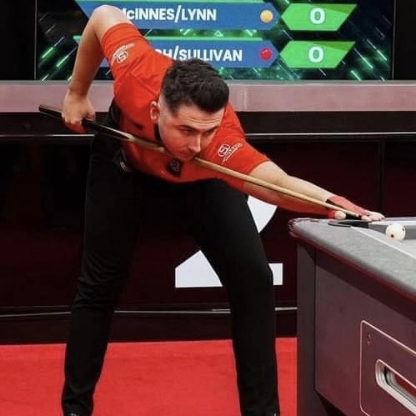 Morgan McInnes
Operations Director
Morgan McInnes joined the business in August of 2021 when the demands were sufficient for a career change to the sport he loves. Coming in as Operations Director Morgan introduced several new products and has grown the retail arm by an impressive 400% to date.
Morgan is a keen English 8 Ball Player in the top 4 in Scotland and will be turning professional in 2024.
At On Cue World, Michaela and Morgan represent more than just talented individuals; they symbolise a family's shared love for all Cuesports. Their bond and collective contribution to the game set them apart. As they continue to inspire and lead, we look forward to supporting and celebrating their journey, reaffirming our commitment to nurturing talent and promoting excellence in the world of Cuesports.
Designing the perfect playing table
I wanted the table top to be secured all the way around so the cushions provided a uniform reaction and bounce. This has been achieved with the addition of extra table clips to hold the cushions down, a mammoth twelve on each table. We have also reduced pocketed ball bounce outs to a minimum. Add all of this with tighter pockets on the Blackball Elite table and you have one fabulous table, perfect for International and European standard pool. The decision was then made to make this quality product available to every standard of pool player by introducing the Club table to the range. All the benefits of the Elite with standard sized pockets.
The table top has been designed to perfection, but any table can look poor if the wrong cloth is put on it. Throughout my years of playing one cloth has stood out as the best of the best and that's Hainsworth. Blackball Tables is delighted to confirm we have an agreement with A W Hainsworth and all our tables will have Hainsworth Match cloth fitted as standard.
Giving something back
It was particularly important to Ross at the beginning of the journey to reinvest in the game that he loves. 'I have watched over the years as the 8-ball pool market received little or no investment from the manufacturers of anything related to the game. At Blackball Tables we are going to hold at least one annual competition with at least a £50k prize fund for our customers and it's only open to amateurs.' 2019 saw the inaugural event with a prize pot of £50k which grew to £67,600 in 2023. The next event is planned for February 2025 and the team are hoping to increase the prize money further.